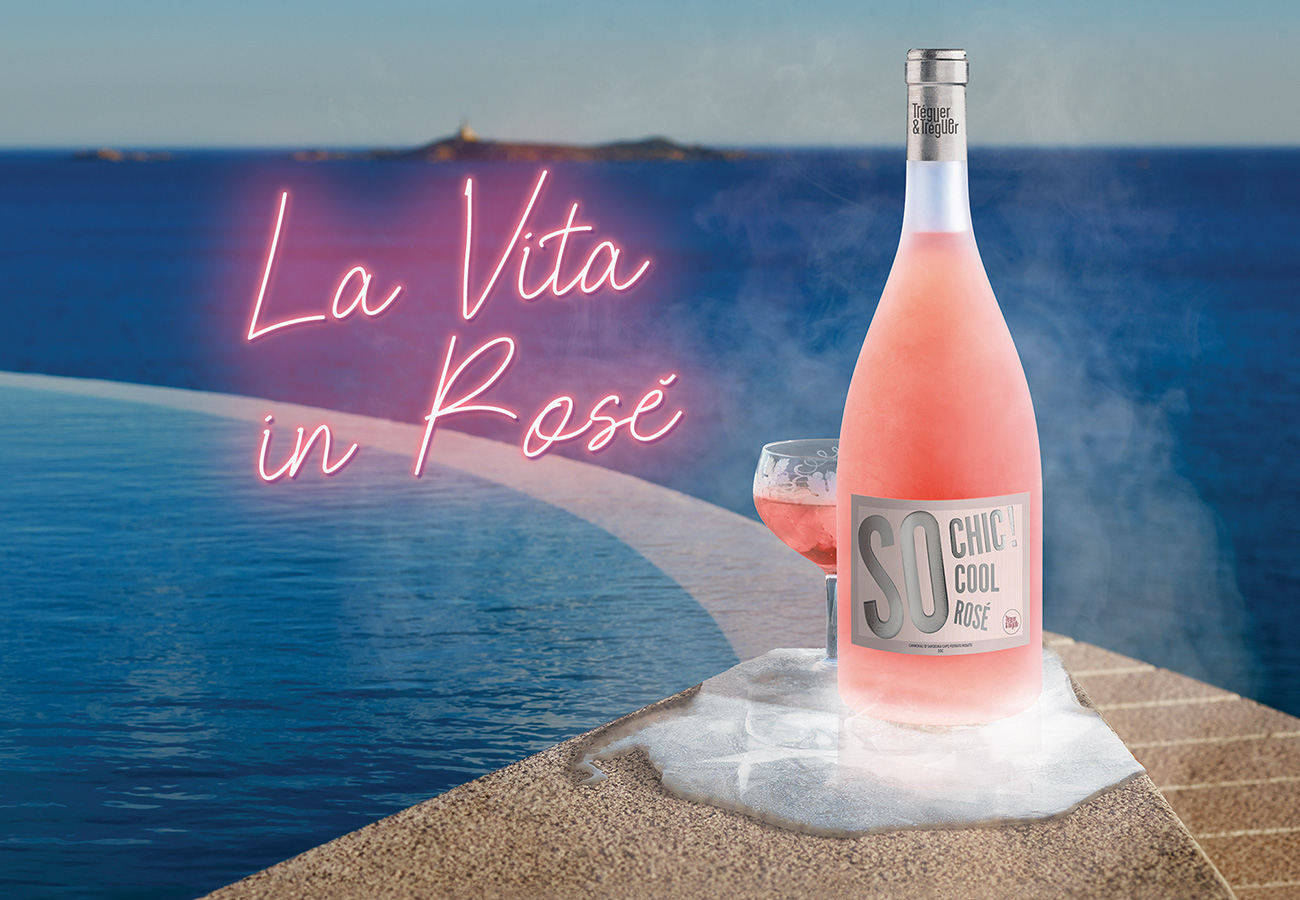 DRINK "LA VITA IN ROSÉ IS SO CHIC !
Love at first sight and a new life project
We are Isabelle and Jean-Paul Tréguer, the "happy parents" of this rosé wine. Both from Brittany, after a career as advertising entrepreneurs in advertising & communication agencies in Paris, we put our bags here in Sardinia.
Our rosé wine was born from our love at first sight for Villasimius, Castiadas and Costa Rei, jewels of the south-eastern part of Sardinia, just in front of the Capo Carbonara Marine Nature Reserve.
The white sand beaches, the turquoise sea, a splendid nature of hills and mountains, the incomparable welcome and kindness of the Sardinians, their tasty cuisine, the magnificent vineyards and 300 days of sunshine a year, made us want to settle here permanently.
With the help of the best Sardinian winegrowers, we have created a unique wine for this paradisiacal territory in order to savor "La Dolce Vita en Rosé".
This is how we became… "Franco-Sardi"!
A wine from a territory with a rich and fascinating past.
Our rosé wine comes from the vineyards of the Castiadas and Costa Rei area, ideally located a few steps from the Tyrrhenian Sea and surrounded by hills that create the perfect conditions of heat and winds to grow the vine harmoniously.
The history of this territory goes back a long way, there are many vestiges of Nuragic culture (18th century BC), menhirs, domus de janas and tombs. All this confirms that the area was occupied from the time of the 1st Bronze Age. Subsequently, much evidence of its presence in the Punic and Roman era was discovered. In this territory called "Sarrabus", Phoenician colonies also came to be established (1200 to 300 BC).
Then, this zone infested by malaria and struck by frequent epidemics of plague, was completely deserted for several centuries.
It was not until the second half of the 19th century that the decision was taken to establish an agricultural penal colony in Castiadas in 1875, the objective of which was to clean up the vast marshy area that had been abandoned for more than 350 years. Under very difficult living conditions, the convicts achieved spectacular results both in agriculture and in breeding.
They introduced herds of domestic animals and cultivated cereals, vegetables, fruit trees, especially citrus and almond trees and, of course, vines …
The penal colony was closed for good in 1956, but what remains of these 80 years of hard work by prisoners is a vast, improved and rich land on which our vines now grow wonderfully.
Capo Ferrato Cannonau, an historic grape variety, a gift from nature.
Historically, it was believed that the Cannonau (Grenache) grape originated from the Spanish Peninsula and was introduced to Sardinia a few hundred years ago. But, during archaeological excavations carried out in 2002 in Borore, on the site called "Duos Nuraghes" were found hundreds of very old grape seeds dating back more than 3,200 years. This discovery shows that the people of the Nuragic era cultivated vines and produced wine. It also made it possible to understand that the "Cannonau Sardinia", which until then was believed to be imported from Spain, is a grape of a different variety and could, on the contrary, be of Sardinian origin. And it is he, on the contrary, who would have been exported to Spain. In any case, this makes Cannonau one of the oldest grape varieties in the entire Mediterranean basin!
The denomination Cannonau de Sardinia DOC Capo Ferrato was created in 1972 and represents one of the most important wine-growing areas in the region. Our Cannonau di Sardegna rosé presents itself with a nice brilliant color, a characteristic fruity scent and a dry taste rich in fruit aromas.
In an ice bucket or in "Piscine" mode …
Or why not adopt the "Rosé Piscine", which has been in fashion for several years at the instigation of the Champagne brands. It consists of tasting our rosé wine with ice cubes. You'll see, it's delicious.
With meat, the red
With fish, the white
With sun, the rosé!
All wines are wonderful gifts that Mother Nature offers us, however, each of us has our own preferences to accompany this or that dish.
Here in Sardinia, the choice offered to us in restaurants is too often limited to red wine (for meats) or white wine (for seafood).
Astonishing, isn't it? When we remember that between May and end of September the sun here is particularly hot and abundant and that we have lunch or dinner on the terrace or in beach restaurants, how could we not prefer to taste a good rosé wine? Cool, even iced, "on the rocks"… Sardinia, a land of sun and hot weather with its 300 days of annual sunshine, is the ideal place to enjoy all the freshness of our rosé wine. He will be able to accompany you pleasantly from the beginning to the end of your lunch or dinner, aperitif included, of course.
Our rosé is not meant to be enjoyed only during july or august, rosé wine is no longer just a summer wine. With its 12.5 degrees and its delicacy, it is perfect for all types of cuisine.
A WINE TO ACCOMPAGNY ALL TYPES OF DISHES, ALL YEAR ROUND.
It can be drunk as an aperitif, to accompany salads, sushi, Asian cuisine, raw fish, seafood, barbecue grills, white meats, pasta, pizzas, fruits and various desserts … Try it and you will see how it pairs well with your favorite dishes.
After discovering and tasting our rosé, you will no longer want to have an aperitif followed by one or two different wines for your lunches or dinners. Our rosé will go perfectly with meals from A to Z, from aperitif to dessert, in perfect harmony and consistency of taste.
©so-chic-cool-rose.com I Treguer & Treguer Wines, 09049 VILLASIMIUS. SARDEGNA-ITALIA